---
Saudi Arabia gears up to reap renewable riches
21 January, 2022
Saudi Arabia, whose oil has fueled the advance of western societies over the last half century, is leading the charge to a sustainable, low-carbon future.
The Kingdom is blessed with one of the best solar resource potentials in the world and is making moves to turn it into the bedrock of a carbon-free value chain that satisfies domestic energy demand and powers exports.
Saudi Arabia has a history of solar development that goes back to the 1980s and includes the development of the world's largest PV car parking canopy, a 10 MW system covering 200,000 square meters.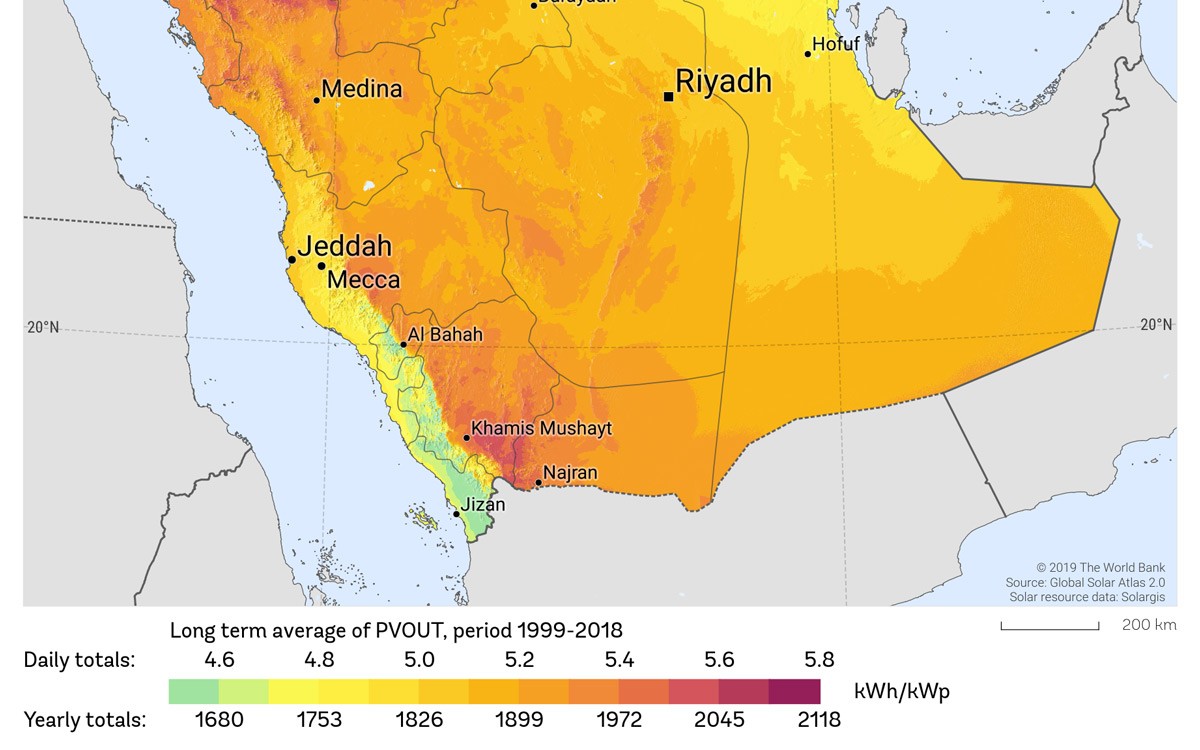 © 2020 The World Bank, Source: Global Solar Atlas 2.0, Solar resource data: Solargis.
And the Kingdom is just getting started, with growing solar plans and a visionary strategy to become a green hydrogen production hub.
Interest in the market has been mounting since 2017, when the Saudi Renewable Energy Project Development Office (REPDO) launched a series of National Renewable Energy Program (NREP) tenders. The first of these saw 300 MW of PV capacity being awarded.
The 300 MW plant from the first NREP tender was inaugurated in April this year, at which point the country had almost 3.7 GW of capacity under development. And it's not just the scale of development that Saudi Arabia is being lauded for.
And after years of progress, the solar plants being built in Saudi Arabia are celebrated for offering some of the lowest costs of electricity in the world.
In the country's second NREP round, for example, one plant—the 600 MW Al Shuaiba project—established a world record with an electricity price of just $10.40 per MWh.
Overall, the market is living up to its potential as a solar powerhouse, with Platts Analytics expecting Saudi Arabia to have 7.7 GW of PV by 2026.
Module makers such as Hanergy and Longi have announced plans to build manufacturing plants in the Kingdom as demand for solar equipment takes off. And while PV is a major component of Saudi Arabia's renewable energy plans, it is not the only game in town.
In a Renewable Energy Program 2030 plan published by REPDO in 2019, the Office set a target of installing 16 GW of wind and 2.7 GW of CSP alongside 40 GW of PV by the end of this decade. It's a safe bet that a fair amount of energy storage will come online, too.
We already see significant interest in the development of solar canopies and electric vehicle charging stations. Distributed solar power is also taking off in the Kingdom as Saudis look to get more of their own energy from the sun.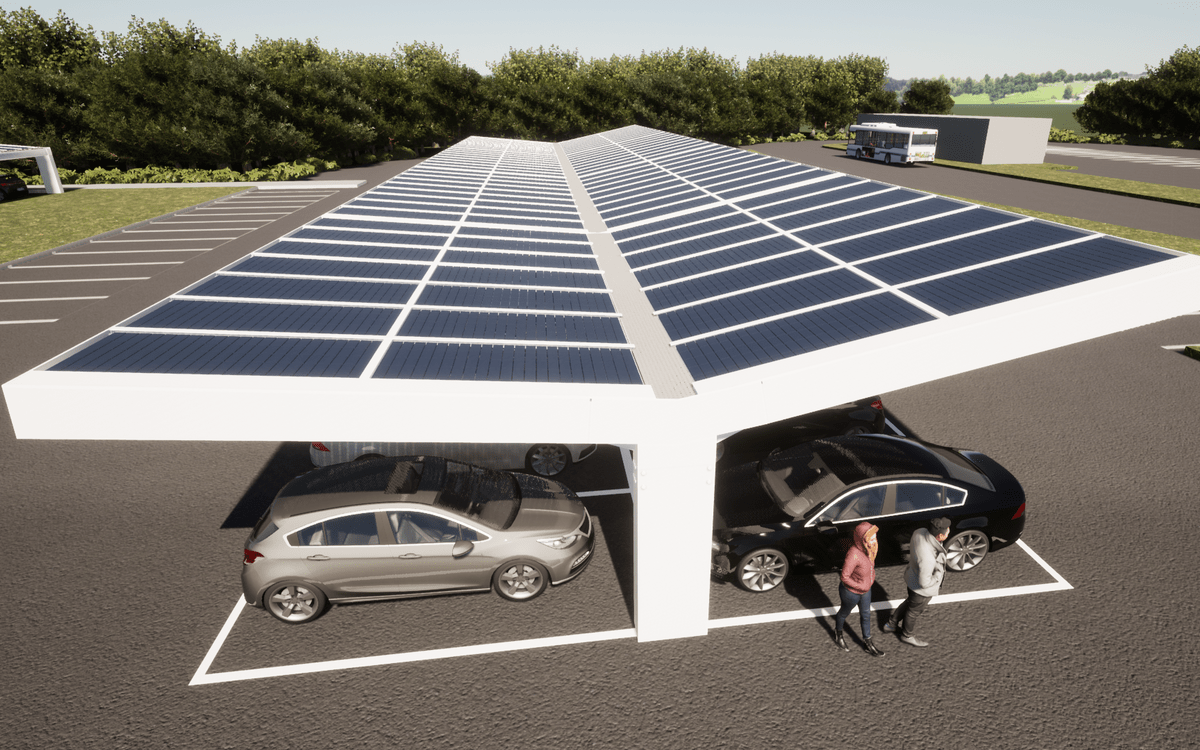 There is significant interest in the development of solar canopies and electric vehicle charging stations in Saudi Arabia.
And last year, Air Products announced the development of a 4 GW green hydrogen plant, the biggest in the world at the time. When finished, the plant will produce 650 tons of hydrogen a day, enough to run around 20,000 hydrogen-fueled buses.
The Air Products announcement was highly significant in terms of signposting Saudi Arabia's future energy ambitions. It's no secret that the Kingdom has benefitted significantly from its fossil fuel reserves, but its leaders are also keenly aware that the future is low on carbon.
To this end, even the state oil company Saudi Aramco has been branching out into solar, buying a 30% stake in a 1.5 GW PV project.
Mohammed Al Qahtani, Saudi Aramco's senior vice president of downstream, said the plant "is one of several low-carbon energy options being deployed by Aramco."
Among such options, green hydrogen is of particular interest.
Analyst firm Wood Mackenzie last year predicted that this would be the "decade of hydrogen" and most experts now regard the it as the fuel that will ultimately supplant oil and natural gas in many of tomorrow's low-carbon energy systems.
But producing green hydrogen today is complicated by the fact that it costs around five times more to make the gas from clean energy sources as it does to produce it traditionally using steam methane reforming, a carbon-intensive process.
The key to reducing green hydrogen costs is to have plentiful supplies of the cheapest possible renewable energy. This is where Saudi Arabia's record-breaking PV pricing comes in.
As well as having plenty of oil reserves, Saudi Arabia's high solar potential means it is ideally placed to produce cheap green hydrogen. Hence the interest from multinationals such as Air Products, which hopes to start shipping hydrogen—converted into ammonia—in 2025.
It doesn't take a genius to see how Saudi Arabia could replace oil with green hydrogen exports in a few decades. But Saudi officials know the country cannot become a clean power hub on its own. To this end, the nation is looking to partner with global renewables leaders worldwide.
Last December, for example, Pacific Green Technologies signed a joint venture agreement with Amkest Group, a diversified business conglomerate with interests spanning construction materials, property investment and development, and consulting and advisory services.
The joint venture involves the incorporation of a Saudi company, Pacific Green Technologies Saudi Arabia, to sell Pacific Green's environmental technologies in the region.
We foresee demand for all the technologies in our portfolio, from CSP and energy storage to desalination plants and emissions control systems.
At Pacific Green we are well placed to serve the Kingdom's low-carbon ambitions because we have strong links to key technology manufacturers in China, along with a joint venture partnership with PowerChina SPEM, China's largest power equipment manufacturer.
These relationships give us unrivalled access to low-carbon technology and equipment, so we build energy transition-related projects rapidly at scale. We are able to source hydrogen electrolyzers with the shortest lead times of any global supplier, for example.
These capabilities were what led Amkest Group to partner with us.
"We believe the combination of our experience and knowledge of the Saudi market, coupled with Pacific Green's portfolio of technologies and relationship with PowerChina, provides the foundation for an incredible partnership," said Amr Khashoggi, Amkest Group's Chairman.
We are already holding fruitful conversations with a range of stakeholders in the Kingdom. It's an exciting time for energy in Saudi Arabia—and we're looking forward to helping the country make its next steps.